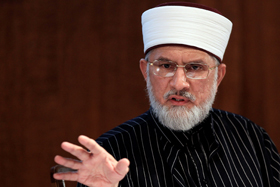 PAT leader Dr Muhammad Tahir-ul-Qadri has strongly condemned the suicide attack on a church in Peshawar in which 80 innocent people lost their lives while over 150 were injured. Describing the incident as a national tragedy, he expressed his sympathy with the bereaved families. He said that solid action was required to deal with terrorism. He said that the terrorism was a blot on the face of Pakistan, which required stringent surgical operation.
Dr Tahir-ul-Qadri said that the national security and stability was faced with grave dangers as the terrorist forces were at large striking at will. He said that the government needed to go beyond passing meaningless and clichéd statements. He said that the country was a victim to terrorism and senseless violence for well over a decade now and there did not appear to be any precise policy as to how to eliminate the scourge.
Dr Qadri said that the Christian community was an important part and parcel of Pakistan's national fabric and their services and contributions to national development were worthy of appreciation. He said that merciless killing of members of Christian community would bring a bad name to the country at the international level. He said that the entire Pakistan nation stood by their Christian brothers and sisters at this hour of great trial and tribulations and expressed their complete solidarity with them.