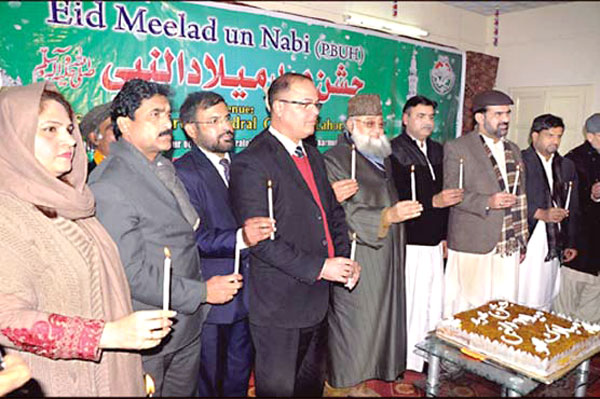 LAHORE (Daily Dunya) – In an unprecedented event in history of the subcontinent, Bishop House Catholic Church in Lahore on Friday observed Milad-e-Nabi (PBUH) event together with Minhajul Quran Interfaith Relations.
Members of various faiths attended this special event. Dr Raheeq Abbasi, Arch Bishop Sebastian Francis Sha, Sardar Ramesh Sindh, Dr James Chinon, Father Francis Nadeem, Kashif Nawab, Pandit Bhagat, Yousaf Binjori, Faizur Rehman Durani, G.M. Malik, Raja Zahid, Ghulam Murtaza Alvi, Qazi Faiz, Raja Nadeem and Sohail Ahmed Raza addressed the gathering.
Leaders from the minority religious communities congratulated Muslims in Pakistan and said that Prophet Muhammad (PBUH) brought the message of peace, love and harmony to the world. They said that terrorism doesn't even have a distant relation with Islam.
Pakistan Awami Tehreek (PAT) central president thanked the Arch Bishop and the administration of the Catholic Church for organizing the event.
Source: www.dunyanews.tv