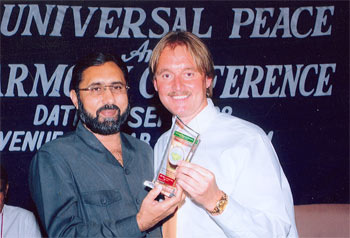 Shaykh-ul-Islam Prof. Dr. Muhammad Tahir-ul-Qadri has been awarded "Peace Award 2008". Universal Peace and Harmony Forum arranged a Great Conference for award distribution at Punjabi Complex, Qadafi Stadium Lahore on 1st Sep, 2008. Prominent National and International Figures including Founder & President Global Mission Awareness (USA) Reverend Lef Hathland, Provincial Minister of Human Rights & Minorities Kamran Michel, Chairman Universal Peace & Harmony Forum Reverend Dr. Marqus Fida, Sohail Ahmad Raza; Director Interfaith & Relations MQI, Hafiz Zubair Ahmed Zaheer, Sardar Sham Singh, and other prominent personalities from different religions graced the occasion.
Reverend Dr. Marqus Fida paid warm tributes to the services of Dr. Muhammad Tahir-ul-Qadri, Chairman Pakistan Awami Tehreek, and Tehreek Minhaj-ul-Quran for promoting peace, harmony, tolerance, sympathy and love at national as well as international level. He greatly appreciated Dr. Qadri's valuable contributions to education, welfare, inter-faith tolerance and said they are unique. He then announced an award for Prof. Dr. Tahir-ul-Qadri in recognition of his commendable efforts that laid the foundation of a Muslim-Christian Dialogue Forum.
Secretary General Pakistan Awami Tehreek Anwar Akhtar Advocate received the award on behalf of Dr Qadri who is currently abroad. He said that Dr Qadri has always advocated and spread the message of Islam that is peace. He has been most vocal to denounce and condemn terrorism and extremism at all levels and has been one of the most dynamic leaders to promote the cause of peace round the globe. He said that Dr Qadri's endeavors have brought about inter-faith and inter-civilization harmony. Dr Qadri is known as ambassador of peace and his anti-terrorism struggle has been recognized in the past on several international forums. He has indeed generated through his leadership new awakening to advancing peace and forbearance and promoting tolerance, moderation, harmony and non-sectarianism for a safe and secure future of mankind.
On this marvelous occasion, Principal Secretary of Shaykh-ul-Islam Prof. Dr. Tahir-ul-Qadri, Mr. Muhammad Mustafa (G.M. Malik) has also been honored with Peace Award for its tireless efforts to coordinate and to promote Inter-faith dialogue among different religious communities.