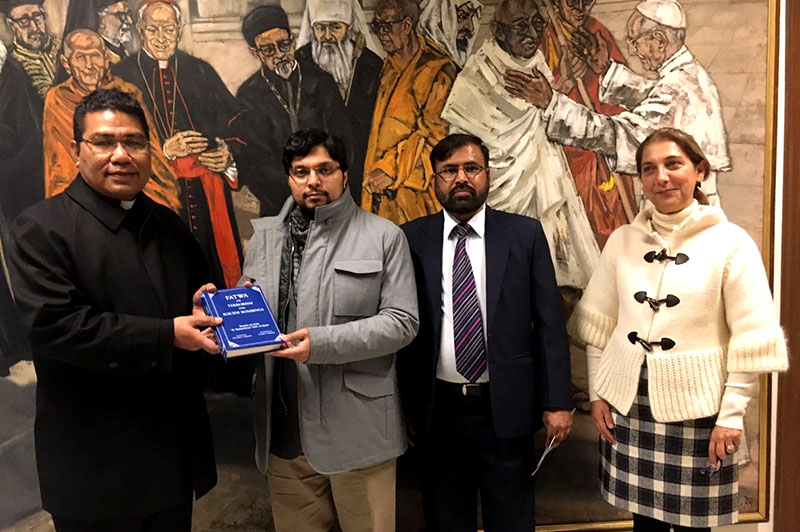 President of Minhaj-ul-Quran International (MQI) Dr Hussain Mohi-ud-Din Qadri reached Vatican City on January 9, 2017 as part of his tour of Europe. His visit to Vatican was undertaken on the special invitation of Fr. Markus Solo, vice president of Catholic Interfaith Council of Pope. Dr Hussain had a detailed visit of the City along with Director Interfaith Relations of MQI Sohail Ahmad Raza & members of MQI Italy.
Vice President of The Pontifical Council for Interreligious Dialogue (PCID) Vatican City Revd. Fr. Markus Solo and Madam Aiza Bell welcomed the guests on their arrival in the Vatican City. They threw light on the history of the City and conducted the visit with standard protocols in line with age-old traditions of Church. Internal part of the Vatican City was opened for Dr Hussain Mohi-ud-Din Qadri which has graves and coffins of former Popes. The MQI delegates took keen interest in the Vatican City.
After the visit, Dr Hussain Mohi-ud-Din Qadri gifted the historic Fatwa authored by Shaykh-ul-Islam Dr Muhammad Tahir-ul-Qadri to Markus Solo. The gift of books by Dr Qadri was given away to both Fr. Markus and Madam Aiza Bell.
Speaking on the occasion, Markus Solo said that with the visit of the MQI delegation, interfaith relations will get a boost. He said that Dr Tahir-ul-Qadri is a leader who has given intellectual and scholarly leadership in the fight against terrorism. He said that MQI is playing an important role in protecting the youth from falling prey to extremist and radical tendencies. He said that the organization has also been doing commendable work to promote culture of love and peace among communities.
Talking to the Christian leaders, Dr Hussain Mohi-ud-Din Qadri said that there is a need to join our intellectual resources together to promote peace, love and interfaith harmony. He said that it is responsibility of followers of all religions that they make sincere efforts to reduce gulf existing between them.
It was a successful visit of the MQI leaders in which commonalities between Islam and Christianity were discussed. There was a complete agreement on the need for building bridges between religions and civilizations to fight off contemporary challenges to peace.