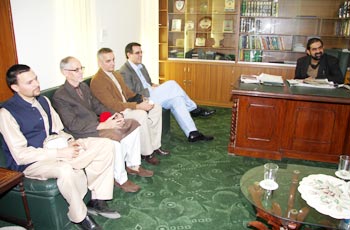 A 7-member Christian delegation led by Pastor Mike Boot FGA Bible College and River Fellowship, Lahore, visited the Central Secretariat of Minhaj-ul-Quran International on 15th December, 2008. The other members of delegation included Michacel Ramsdenea, Ghaza Yaknezer, Josepha John Boot, Markus Daves Poster Danial Rafiq and Irfan Shahzad.
Upon their arrival at the Central Secretariat, the guests were welcomed by the central leadership of MQI led by Naib Amir Minhaj-ul-Quran International Brig (r) Iqbal Ahmad Khan, Secretary General MQI Dr. Raheeq Ahmad Abbasi and Director Foreign Affairs Muhammad Mustafa (G.M. Malik).
The delegation was briefed about projects and activities of MQI and its forum like MWF and MES around the global. The members of the delegation also visited different directorates and departments of MQI Central Secretariat.
Members of delegation appreciated achievements of MQI and its founding leader Shaykh-ul-Islam Dr. Muhammad Tahir-ul-Qadri in the field of education, welfare and research and praised his efforts for promotion of human rights, interfaith dialogue, peace and tranquility.