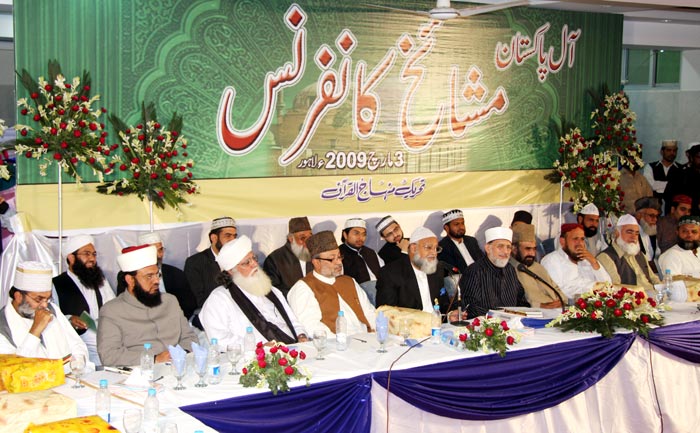 Minhaj-ul-Quran International organized an All-Pakistan Mashaykh Conference in the central secretariat in Model Town on March 3, 2009, which was attended by more than 300 religious scholars, Mashaykh and Pirs from across Pakistan. The participants regarded the conduct of this conference timely for elimination of extremist and terrorist attitudes, protection of teachings of Sufis and Islamic mysticism, revival of religious and spiritual values and the safeguarding of Islamic beliefs. The Mashaykh jointly condemned the terrorist attack on the Sri Lankan Cricket team in Lahore and called it an attack on Pakistan. The prominent scholars and Pirs from among those who attended the conference included Dewan Bakhtiar Syed Muhammad Chishti from Pakpattan Sharif, Sajjada Nasheen Bhaira Sharif Sahibzada Amin-ul-Hasnaat, Sajjada Nasheen Dhangri Sharif Azad Kashmir Pir Attique-ur-Rahman, Moinee-ud-Din Koureja, Pir Syed Khalil-ur-Rehman Chishti, Pir Mohi-ud-Din Mahboob, Sahibzada Habib Nawaz, Pir Ghulam Rizwani Jilani, Pir Makhdoom Nadeem Hashmi, Pir Muneer Zakri, Makhdoom Wali Muhammad, Haji Ghulam Rasool Naqashbandi Qadri Saifi, Pir Faiz Shahid Faizi, Makhdoom Muhammad Ahsan, Ghulam Mujataba Noori, Syed Zia-ul-Haq Gilani, Khan Wali Qadri, Pir Ghulam Dastigir Tougeervi, Bader Mohi-ud-Din Gilani, Pir Sanaullah Taibi Bokhari, Sahibzada Pir Syed Sajjad Shah Bokhari, Pir Faiz-ul-Hassan Shah and others.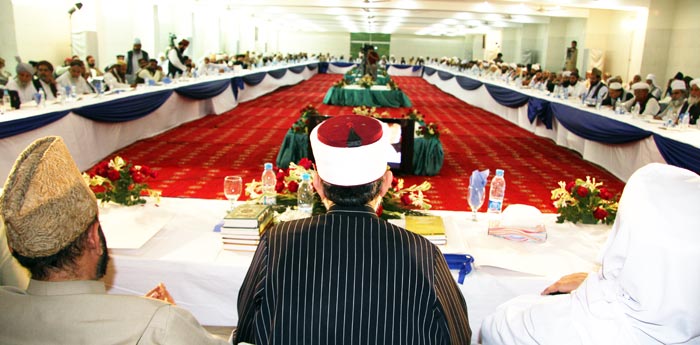 Addressing the conference, Shaykh-ul-Islam Dr Muhammad Tahir-ul-Qadri said that Islam was a religion of peace and harmony. Conservatism, terrorism and fundamentalism had nothing to do with Islam. Today's Mashaykh Conference condemned these negative attitudes at every level in the strongest possible words. He said that the Sufis changed the destiny of millions of people through their character and by popularizing the notions of love, peace and security. They made different societies the hub of peace through their endeavours. He said Mashaykah and Pirs were playing their central role in promoting the peaceful attitudes in society.

He said that there was need to do more because the country was caught in the fire of worst kind of terrorism and conspiracies were being hatched to defame Islam and Pakistan. Dr Muhammad Tahir-ul-Qadri said that this big gathering of Mashaykh indicated the fact that the spiritual centres in the country wanted peace and security. Minhaj-ul-Quran International would formulate such a system of spiritual training with the consultation and guidance of Mashaykh that would be instrumental in fostering spiritual values in society and would help establish durable peace in Pakistan.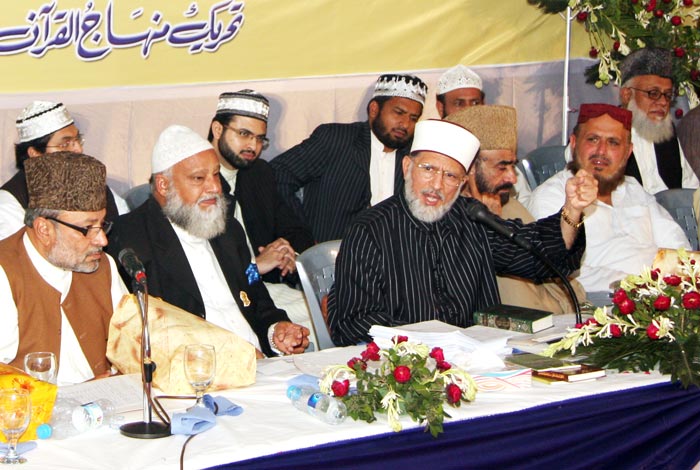 He said that it has been decided to formulate a one-year course for spiritual training which would contain such ingredients as lectures of the Holy Quran, Hadith, moral, spiritual and scholarly aspects of Islam. This would have positive and deep impact on the society. It has also been decided that real spiritualism would be promoted by doing away with excesses and evil customs. The Pirs and religious scholars would play their role in spearheading these efforts.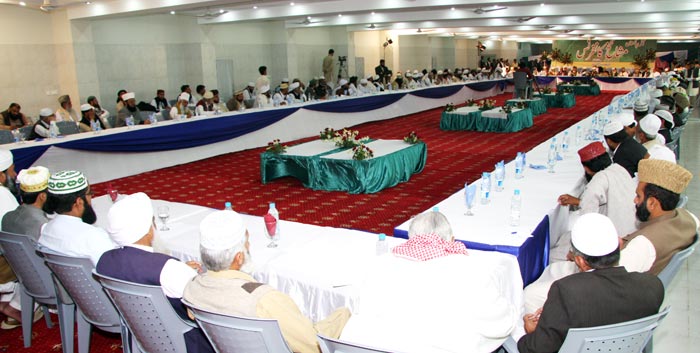 Dr Muhammad Tahir-ul-Qadri said that it was also agreed that spiritual training of women was as important as that of men. He said the Conference also agreed that spiritual values would have to be revived in society to correct the moral disorder and chaos and Pirs and Mashaykh would play their role in the promotion of these values. He said that only spiritual Households could steer clear the ship of society, which was caught in the unchartered waters of materialism and today's Mashaykh Conference was witness to the fact that spiritual personalities were aware of their responsibilities. He said that Mashaykh Conference also agreed that society needed to be equipped with modern, contemporary education in addition to religious one so that religious scholars could be able to respond to challenges facing Islam successfully.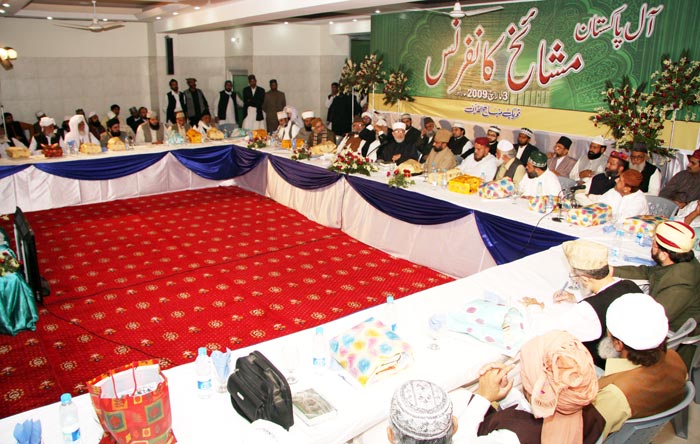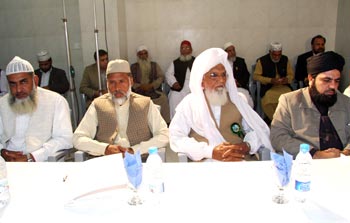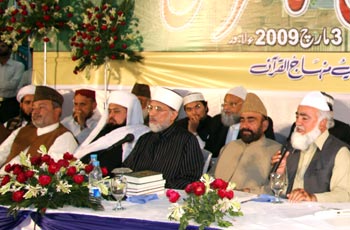 Text of joint Communiqué adopted at All-Pakistan Mashaykh Conference
The participants of All-Pakistan Mashaykh Conference comprising religious scholars, intellectuals, spiritualists and Mashaykh, organized by Minhaj-ul-Quran International on March 3, 2009, agreed that practical steps needed to be taken to foil the attempts aimed at debunking the peaceful message of Sufis and promoting anti-mysticism ideologies in the wake of present national and international situation.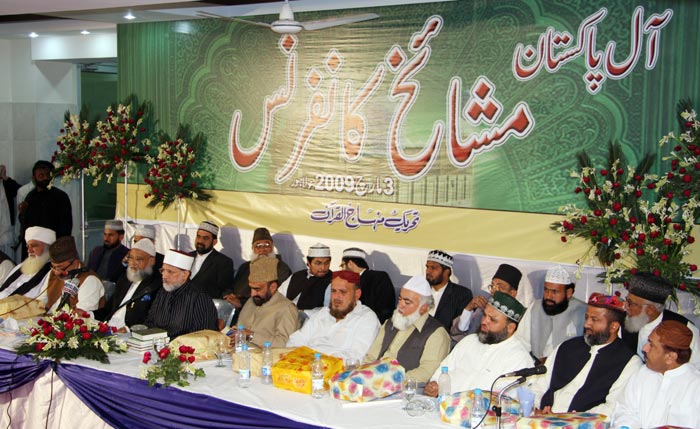 The participants showed their complete consensus over the following points in the joint communiqué:
The Conference condemned terrorism and extremism in all its forms and manifestations taking place anywhere in the world including Pakistan and it was resolved that Sufis & Mashaykh would play their role in promoting Islam's message of love, peace and brotherhood throughout the world.
The participants vowed to work out a reformation strategy for all chains of spiritualism and for restoration of 'Khankahi' system.
It was decided to establish Mysticism Research Centre aimed at responding to the objections raised against the Sufis and promoting the mystic teachings in the light of teachings of past mystics and spiritualists.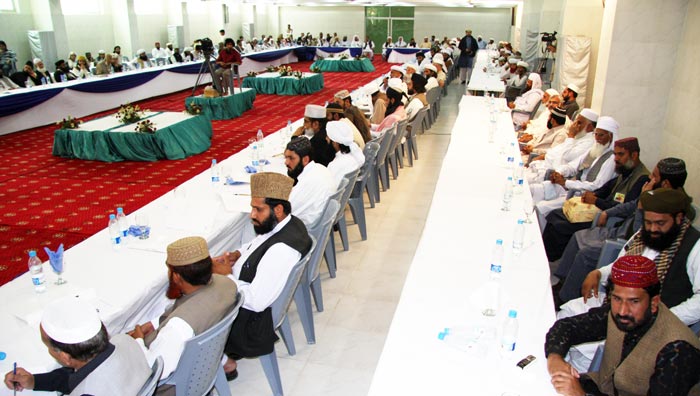 The conference also decided to establish religious centres in all the Mazars and 'Khankahs' and the institutions which are run by MQI would make arrangements for special meetings of Sahibzadgans and respected Pirs.
The conference vowed to take practical steps in order to do away with negative traditions, customs and excesses in the convents. A supervisory committee comprising effective and influential Mashaykh would also be established in this regard.
A Contact Group comprising religious scholars and spiritualists would be established to oversee the implementation of the above-mentioned aims and objectives.
The conference also decided to bring into mainstream those centres of Ahl-e-Sunnat, which were working for promotion of education and imparting of training individually.
It was also resolved to formulate such a comprehensive syllabus for revival of 'khankahi' system as makes it easier for the general people to follow the teachings of Sufis.
It was also decided to hold workshops for imparting training and education to the people associated with Shrines, Darbars and other religious places.
The participants decided to establish good, standardized libraries in order to meet the need of references and research.
It was also decided to establish groups of Dhakkir & Durood keeping in view the system of training of different spiritual chains.
The conference decided to promote Dawa work based on reformatory and preaching ways of Sufis in shrines and Darbars. Special arrangements for education and spiritual training of women would be made and priority attention would be given to the problems of people.